Wedding Reception Cakes
For more information abour our weddings, please go to : www.flowersbyrichardnyc.com.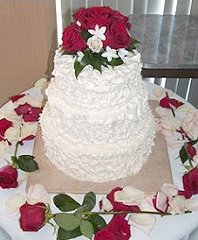 The wedding cake is a primary focal point at every reception, and should be decorated accordingly. Stage the cake in a prominent position in the room, on a special table of its own.

When you are deciding on the size, style, and type of your wedding cake, there are many things to consider. Traditionally, wedding cakes have three tiers and are covered with Royal Icing. This doesn't mean that your cake has to be traditional. Colors, chocolate and fresh flowers are gaining much popularity.

There's no right or wrong way to decorate a cake, so have fun and explore all your options.